Leading the way in digital and social for Applegreen, a convenience food and beverage retailer and operator of petrol forecourts and motorway service areas with a major presence in Ireland, the UK and US.
Driving multiple communication strategies through various touch-points, with a focus on Digital Marketing.

Management of brand strategy for Social Media platforms and roll out across ROI, NI, UK and US.

Develop engaging campaigns aligned with trading and brand priorities using interactive and creative content.
Some of the 566 site locations
Category: Food - Deli
New product launch campaign (Vegan Sausage Roll) successfully saw 9,000 units sold in launch week (week 18). Sales went up by 17% in week 20, and net sales maintained for two weeks of the campaign. Increased website visits by 200%. Increased Instagram audience by 11%. Social reach 0.5 million people.
Category: Drinks - Coffee
Event campaign (Coffee @ Bloom in the Park) successfully saw 2,000 coffees sold. Increased engagement by 10%. Increased Instagram audience by 6%. 12,000 Facebook video views. 37,000 Instagram Stories views.
Online Audiences Increases
Through the Line & Above the Line
Integrating Below the Line strategy with Above the Line for successful Through the Line FMCG campaigns that drive sales.
Leading external agencies on creatives and performance marketing.
Campaigns include:
#TheVegan – Vegan Sausage Roll 

#ApplegreenPriceDrop – Summer Fuel Sale 

#Happy247 – Birthday Celebration
Below the Line
Develop digital-only engaging campaigns aligned with trading and brand priorities using interactive and creative content.
Campaigns include:
#DriverReviver – Road Safety

New Store Openings

Car Wash 

#MothersDay

#Easter

#Bloom2019 & #Taste19 – coffee

#StrangerThings #AirLounge

#ElectricPicnic
SOCIAL
Management of the content calendar.
Plan and develop engaging content.
Use gaps in calendar for real time marketing opportunities.
Ensuring consistent posting for audience growth.
WEB
Created content for consumer and corporate campaigns.
Manage the websites for: Ireland 🇮🇪 UK  🇬🇧 and US 🇺🇸
B2C
Loyalty | trade | hashtag holidays | brand partner content – Burger King | Freshii | Chopstix | Costa Coffee | Just Eat | Lavazza | Subway | Welcome Break | influencer content, and user generated content.
CORPORATE
#EarthDay | #Pride | #RoadToSustainability | #Charity | #TeamApplegreen | #WellBeing | #WomensDay |
B2B
SEO and social for – Fuel Card | Dealers (Franchise)
MANAGEMENT
Management of the Social and Digital budget.
Monitoring and forecasting future expenditure.
Project Management.
Digital Agency Management.
Management of direct reports.
MEASUREMENT
Monitor all contents performance.
Track and tweak campaigns if necessary.
Prepare reports and infographics for campaign performance.
Prepare comparative analysis and social sentiment reports.
Measure sales in line with marketing activity.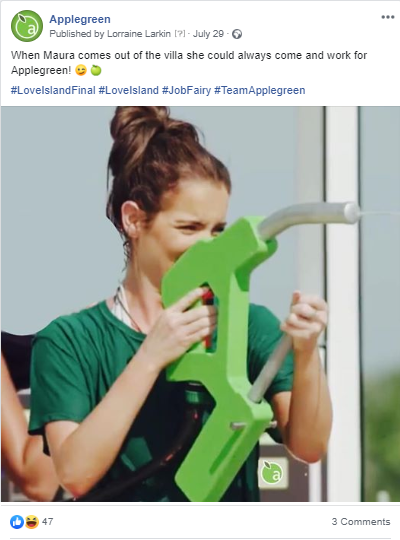 Reactive Marketing – Love Island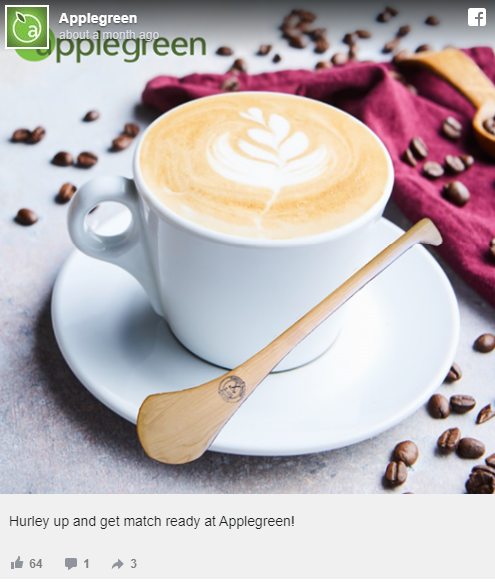 Reactive Marketing – All Ireland Hurling Final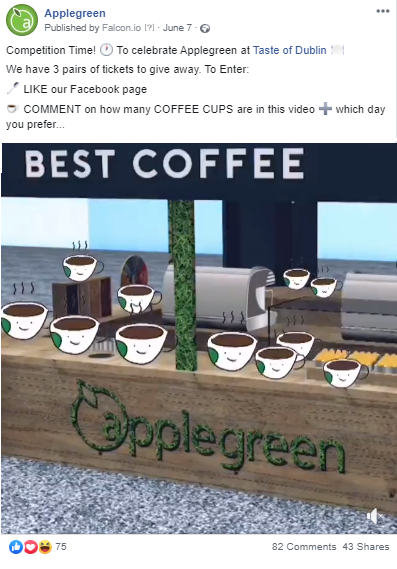 Engagement – Competition – Taste of Dublin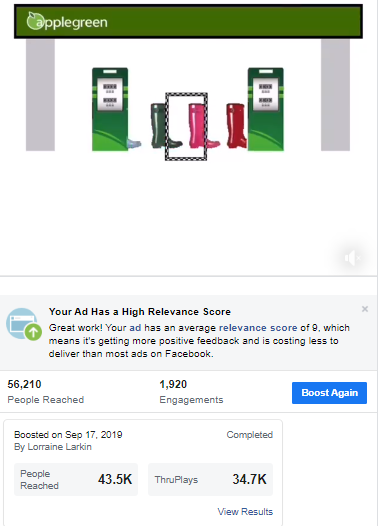 Advertising – Competition – Ploughing Championships

Reactive Marketing – Product Promotion Cycle of Offers