Want to know how the TikTok algorithm works?
Well now you can!
I decided to write a blog post and create an infographic version of a TikTok algorithm video by Michael Khieu, a Montreal based street-wear brand owner, author and digital marketer. Follow him on Instagram @king_khieu and buy his stuff @onitheworkshop.
Although some say that it is inaccurate, from what I know of what shows on feeds across other social media platforms, if you keep these aspects that he mentions in mind, you really won't go far wrong.
In his video he takes the audience through his visual representation (recreated below) step-by-step. He starts by saying that if you understand the back end environment your chances of going viral will be very good.
"At the top we have the cetralised TikTok algorithm, the cloud that overseas all activity on the platform. The little squares over here are the users content."
"Now, here is what happens when you post a video:
Your video will get a boost to a certain amount of people and then a first evaluation will take place.
Here's what the evaluation is going to look like:

TikTok will carefully observe how people interact with your piece of content.
The key metrics identified each have a separate weight.
Certain metrics have a higher value than others, so the re-watch rate has 6 points, completion rate 5 points, shares 3 points, 2 points for comments and 1 point for like.
Likes don't really mean that much because of click farms.
It will compile all the points and give your piece of content a 'goodness' score.
When content has more points for the threshold for Eval 1 it gets boosted up to more people.
To Tier 1, Tier 2, Tier 3 and so forth and then at God Tier it goes super viral."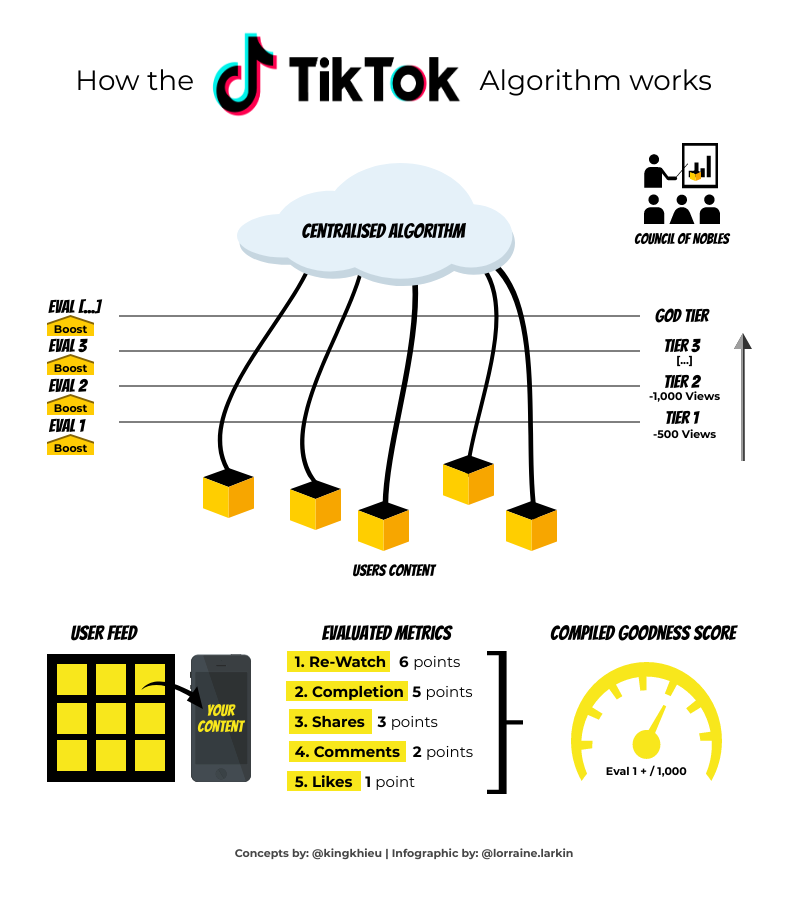 (Visited 53 times, 1 visits today)